2 and 3 way electro-pilots normally closed
2 and 3 way electro-pilots normally closed
To all intents and purposes, these can be defined as direct control mini-solenoid valves, normally closed with the following limitations: fewer cycles per minute, determined by the fixed outlet dimension of 3mm, and the use of small capacity pumps.
The electro-pilot comes with a 360° revolving coil encapsulated in a polyamide resin with class F 155°C fibre glass.
Connection is made with an incorporated HIRSCHMANN type socket.
Power absorbed: MAX 11 watt
Standard voltage supply: 24 - 110 - 220V. 50/60 Hz 110-48-24-12 DC 100% ED
Working limits: rated voltage +5% -10% with hot coil.
Working temperature of coil: -10°C +45°C
Max fluid temperature: +80°C
Degree of protection of connector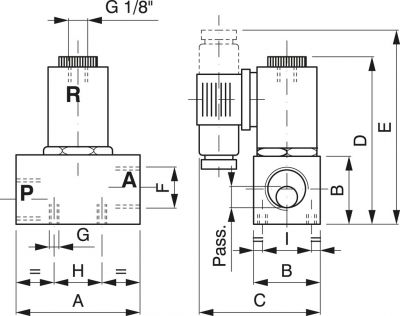 | Art. | A | B | C | D | E | F | G | H | I | Ø Orif. | Portata m3/hCapacity m3/hDurchsatz m3/h |
| --- | --- | --- | --- | --- | --- | --- | --- | --- | --- | --- | --- |
| ELP/2 1/4 | 44 | 25 | 62.5 | 81 | 86 | 1/4" | M 6 | 15.5 | 15.5 | 6 | 5 |
| ELP/2 1/2 | 65 | 35 | 65 | 90 | 98 | 1/2" | M 6 | 25 | 28 | 11 | 10 |
| ELP/3 1/4 | 44 | 25 | 62.5 | 81 | 86 | 1/4" | M 6 | 15.5 | 15.5 | 6–3* | 5 |
| ELP/3 1/2 | 65 | 35 | 65 | 90 | 98 | 1/2" | M 6 | 25 | 28 | 11–3* | 10 |
* Outlet pilot