Oil bath air filters
These filters are particularly suitable for prolonged use in particularly dusty environments. They ensure an excellent level of filtering and a long working life. If the oil is changed on a regular basis, only minimal maintenance operations are necessary. They can be supplied with cap suction or, for very dusty environments, with cyclone prefiltering. The filters have a special coating, very important for withstanding and resisting all types of external environments, and they have accurate mechanical finishes. Use medium density oil.
Materials
container in coated sheet metal
wire net filtering
working temperature from 0°C to 90°C.
Mounting
The filter must always be mounted in the vertical position. Tilts of up to 30° are acceptable, and also greater tilts for short periods of time.
Maintenance
The oil in the cup must always be maintained at the level indicated. Make sure that the cup is free of mud and other impurities which might accumulate during working. When working in particularly dusty environments, the lower parts of the filter should be dismantled every day and cleaned with diesel fuell.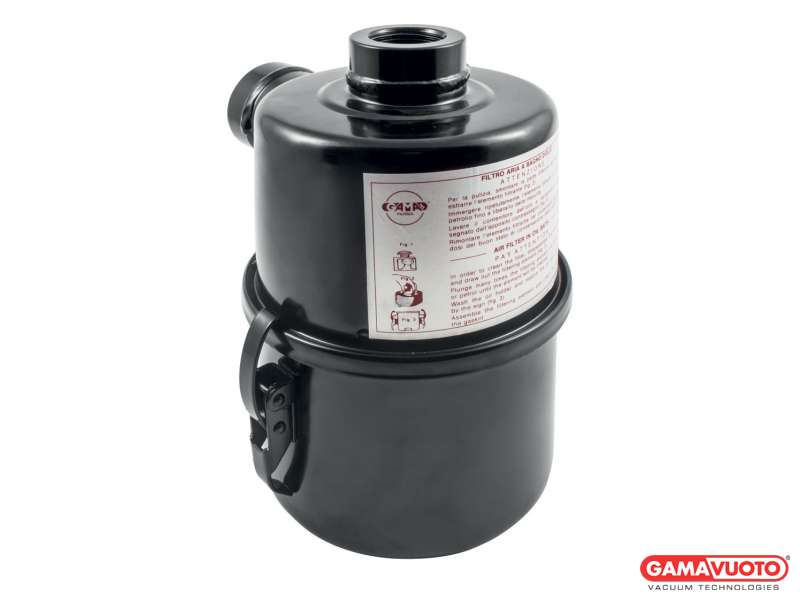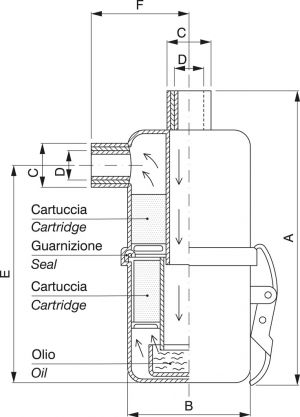 | Art. | A | B | C | D | E | F |
| --- | --- | --- | --- | --- | --- | --- |
| FBO 1 | 219 | 106 | 40 | 1/2" | 162 | 100 |
| FBO 2 | 227 | 130 | 50 | 1" | 156 | 105 |
| FBO 3 | 296 | 162 | 60 | 1 1-2" | 198 | 128 |
| FBO 4 | 340 | 185 | 67 | 2" | 226 | 142 |